Karin Grunebaum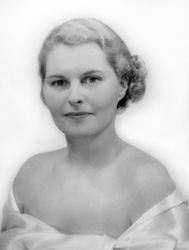 Karin Grunebaum (née Wassermann) was born in Berlin, Germany on September 2, 1918 – the second daughter of a prominent banker. Her apparently very beautiful and loving mother died of an unspecified illness when Karin was only 6 years old – which would prove to be a strange precursor to Karin's own life.
In June 1958, at age 39, Karin Grunebaum, the mother of 4 and a loving wife, suddenly passed away from cancer only three months after giving birth to her youngest child. Because her pregnancy had masked the symptoms of cancer, the disease had already metastasized throughout her entire body by the time the cancer was diagnosed a month after giving birth. There was no way to know what type of cancer she had. The primary site of the malignancy remained unknown.
After Karin passed away, her husband, Fritz Grunebaum, established the Karin Grunebaum Cancer Research Foundation as a lasting memory to his beloved wife so that other families could avoid such a tragedy by helping to identify and treat all tumors regardless of location.
The Foundation's Mission and its chosen path to Mission Accomplishment:
Because Karin Grunebaum died at age 39 from an unknown primary site malignancy, the overriding objective of the Karin Grunebaum Cancer Research Foundation is the eradication of all types of cancer. The Foundation's original Declaration of Trust, written in 1958, mandates that the Foundation's funds be exclusively used for "...aiding research in and study of the cause, treatment and cure of cancer."
The Foundation's Trustees firmly believe that the eradication of cancer will only occur through successful research accomplishments which are followed by successful practical/commercial application. Thus, the Foundation has chosen to invest its funds directly in dedicated cancer researchers in hope of helping them achieve significant accomplishments to eliminate all types of carcinomas and thereby eradicate each and every type of cancer.